The scene was: My mother and I, sitting at an outdoor café in Seville, Spain, taking a breather from a late morning of wandering that had bled into the noon hour on a blistering September day. Yes we did want something refreshing and boozy, but we were also held back by the prospect of all that wandering still looming ahead of us. The waiter saw our hemming and hawing and offered us a way out. Enter the tinto de verano, something neither of us had heard of.
It translates as "red wine of summer" or "summer red wine." Part red wine, part lemon soda, getting the tinto de verano was like ordering half a drink, booze-wise, like a wine spritzer with more class. For the remainder of that mother-daughter trip, the tinto de verano became part of a daily routine, the refresher we employed to break up, and beat back, sweltering afternoons.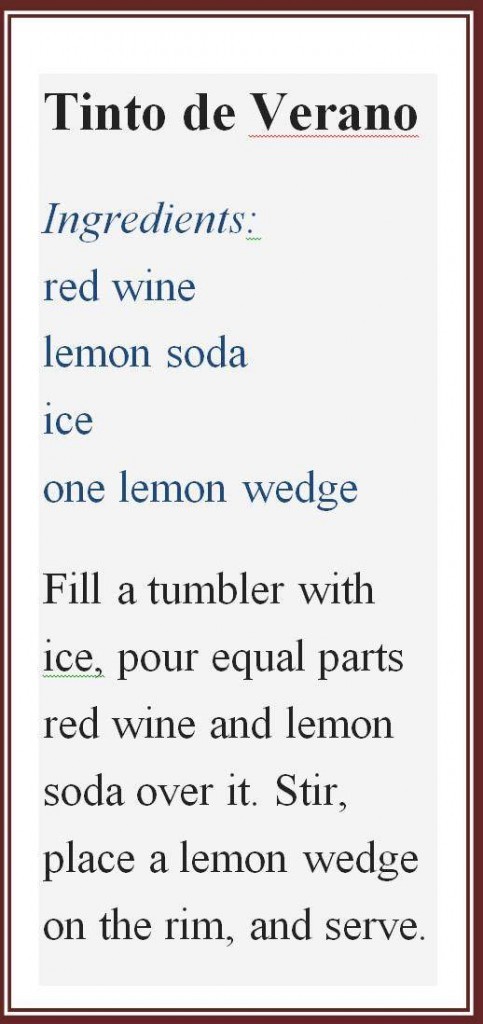 To learn more about the cocktail and how it fits into Spanish culture, I turned to a friend of mine, Carrie Jaxon, an American who spent the past eight years living in Madrid. Tinto de verano, it turns out, is part of many daily routines in Spain. "Tinto de verano is the choice for summer drink," she told me. It's far more popular with Spaniards than the summer drink Americans most associate with that country: "Sangria can be had but is much less common for the local folk," Carrie says. "[It] might be more for parties and only ordered by tourists in public."
Since that Spain vacation in 2009, I've yet to see a tinto de verano on a menu outside of Spain. Despite a cocktail culture here in New York City (and beyond) that's constantly on the prowl for something classic on which to place a new twist, I've never been able to order one.
I have, however, taken to making tintos de verano at home every summer. Each time I serve one, I get way more credit than I deserve. It couldn't be simpler: one part serviceable red wine to one part lemon soda, preferably of the artisanal variety. For those who bemoan leaving red wine behind when the days get warm, it's the ultimate solution. One word of warning though: the tinto de verano really is what its name implies. "You wouldn't dare order it outside of summer, people would laugh!" Carrie told me.