The first time I went to Spain's famed coastal town of San Sebastian, I arrived via train, having traveled down from Amsterdam with two Scottish fellas I'd met in a youth hostel there and whom I could understand some of the time. We found a hotel room with three twin beds for something like $50 per night, dropped our bags in it, and most likely walked down to the closest bar. I was 22 years old, and I saw San Sebastian as a delightfully timeworn town populated largely by pension hotels. A couple days later I'd leave on a night train to see the running of the bulls in Pamplona.
More recently and now as a thirty-something, I again stayed in San Sebastian, but this time at the Hotel Maria Cristina, a 136-room belle époque marvel fresh off a $25 million makeover, with flawless marble floors, complicated columns, gallant doormen and a collective sense of grandeur to show for it. I arrived in the rain and climbed the stone stairs to the entrance and already, the Maria Cristina had changed San Sebastian for me—from its vantage, the town now seemed to have more in common with the grand European capitals than the crumbling, half-forgotten seaside towns that I've always loved.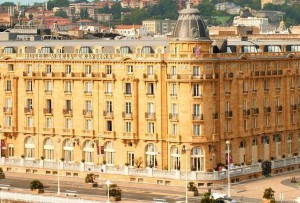 The color scheme inside is officially feminine—almost every review I've seen of the hotel takes its cues from the press release in describing it as such—but the lobby presented a color palette of neutrals, dominated by grey; tasteful, soothing and entirely gender neutral. Elsewhere in the hotel, the dominant color would be a muted pastel blue. Throughout, pops of color kept things interesting. In décor, I tend to equate feminine with frilly, and there's no such thing going on at the Hotel Maria Cristina. Still, the soft colors and soft touches, the Art Nouveau curves, and the plush textures obliterate current notions of industrial décor as the favored path forward in hotel design. It was refreshingly sumptuous, nonchalant in its extravagance.
The feminine identity in practice would be more a nod to both the hotel's namesake—the queen of Spain at the time of the hotel's opening, and its first guest—and to the many leading ladies who have stayed here over the years, including Bette Davis (said to have taken her last drink in the hotel's bar), Sophia Loren, Lauren Bacall, and Catherine Deneuve. To this day, once a year during the San Sebastian International Film Festival, celebrities both male and female flood its corridors, but on the heels of these women.
 I was there for another big event, the hotel's grand reopening, scheduled to coincide with its 100th anniversary. In almost every sense, the building was at its best ever during those few days. And while I was there, luck was with me from the outset. I arrived fairly early in the morning, and instead of telling me to come back at 3pm when my room would be ready, the front desk clerk upgraded me to an available Royal Suite.
As in most hotels of this class—five stars, part of Starwood's Luxury Collection—the most basic rooms at the Maria Cristina are beautiful but also very small, while the suites hoard the truly spectacular real estate. Although I can't normally afford the roughly 1200 euros per night it would cost to sleep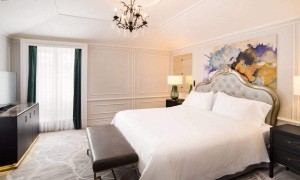 in one, it's also true that for the price tag, you get more in the suites here than you would in many other hotels. At over 800 square feet, there was enough space in mine to really move around. I wanted to dance (and I did, one night). I wanted to have people over (and would have had I known anyone to invite). Pairs of French doors circled the oval living room and opened onto scenes of the Pacific Ocean and the Urumea River. I stood at one, hands on the balustrade, and let the curtains billow around me—the effect was as intended, I felt like a movie star.
Speaking again of movie stars…hotels often lay claim to the famous people who have slept in them. Most, however, don't make it central to their design scheme. In my suite, Catherine Deneuve was a focal point, photos of her gracing the walls in several places. She apparently prefers this suite when she's in town, and it must be even weirder for her than it was for me. This was the lone misstep in the décor.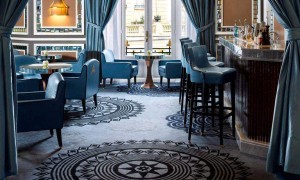 I found no such faux paus in the public spaces. This is a hotel that's fun to hang out in, where even through the excitement of a grand opening I could sense a general buzz underneath. There are so many pleasant areas to discover and it's all executed with such grace, with a top-notch contemporary Asian restaurant, a velvety bar serving traditional tapas, and terraces to die for all around.
On my last night, I stuck to the room and ordered a glass of wine via room service. This is where my expectations for this class of hotel happily diverged from the experience. At check-out I learned that the glass of wine cost 9 euros, with no additional charges for it to be brought to my room by the kindest of butlers. To not feel gauged is a luxury that luxury hotels typically tend to underestimate. The Hotel Maria Cristina got it right.
HOTEL MARIA CRISTINA | Paseo Republica Argentina, 4 | San Sebastian, Spain | website
–by Sarah Stodola
Related Reading: