Eating was going terribly for me in Vietnam. The failures fell into two categories. One, I'm vegetarian, a lifestyle choice that isn't catered to in this central part of the country around Da Nang and Hoi An, despite the widespread practice of a Buddhism that has followers going vegan on two days out of every month. Most adventurous eaters, in a place like this, simply point to what looks interesting at the food stall—an approach that's impossible as a vegetarian.
Two, the sugar. Used enthusiastically and copiously in everything from sauces to meat preparations, it meant that when I could find vegetarian food, it was so sweet that I would eat only enough to get rid of a growling stomach, then stop.
In this Essay:
Fat Fish
439 Tran Hung Dạo
Da Nang
website
Waterfront
150 Bach Dang Street
Da Nang
website
Bo's Coffee
320 Nguyen Duy Hieu
Hoi An
no website
Quán Chay Ấm
33d Ly Thai To
Hoi An
no website
The situation would have been improved with regular access to bread, which I generally consider the most important staple of my diet, the thing I can reliably fill up on no matter what else is on the table. After a banh mi at the Hanoi airport, though, I never came across another one. My first night in Vietnam, I ordered a veggie burger at a backpacker spot because it was both nearby and open. It arrived, and turned out to be a burger without the meat, but with nothing to replace it. I ate a bun with some fixings on it for dinner—which if we are being generous I suppose we can qualify as a second banh mi.
For my first few days in the region, I stayed in Da Nang, a less touristy city where the dining scene has started to show signs of cosmopolitanism. I would have liked to sample Vietnamese food, but could never find any that wasn't at least made with fish in some way. Once, I ate it anyway, in a pho.
In the end I looked to Fat Fish and Waterfront, two high-design places with a kind of international menu that would fit right in anywhere in the world with a hipster scene, to provide my most satisfying meals. I had a great flatbread at one and a gnocchi at the other and I was not sorry.
One evening, I bought some milk in a small shop, pleased that I'd be able to make my own coffee the way I liked it the next morning. I discovered the hard way that here in Vietnam, even the store-bought milk comes sweetened. If everything else hadn't been so sweet, the sugary Vietnamese coffee may have struck my palate differently. As it was, the coffee piled sugar onto sugar, and I recoiled.
After moving down to a hotel in Hoi An, a tourist hub of the region, the situation deteriorated fully. I was hungry all the time. I was so very sick of eggs. I ate a terrible pizza for lunch one day. On another, I had a hummus platter served with a pittance of bread; I asked for more, and was denied. One afternoon, I passed a small shop selling convenience items—at home it would be called a bodega. I spotted a container of Sour Cream & Onion Pringles and knew I needed them. I took them to my hotel, sat by the window, and destroyed them. It was the best eating experience I'd had in three or four days.
One morning, instead of enduring the sweet coffee served at my hotel breakfast, I headed to Bo's Coffee, a place I'd seen down the street the day before. It looked from the outside like the kind of coffee shop that would serve the kind of coffee I craved, and I was correct. I ordered a latte.
At that moment, I was the only customer in the café and the owner struck up a conversation. He told me how he'd once gone to Chicago in the middle of winter. He asked how my trip was going, and then how I liked the food. The food has been a challenge, I told him.
The coffee shop owner knew of a vegetarian restaurant, and he looked it up for me. I told him I'd be going there that night, and I did.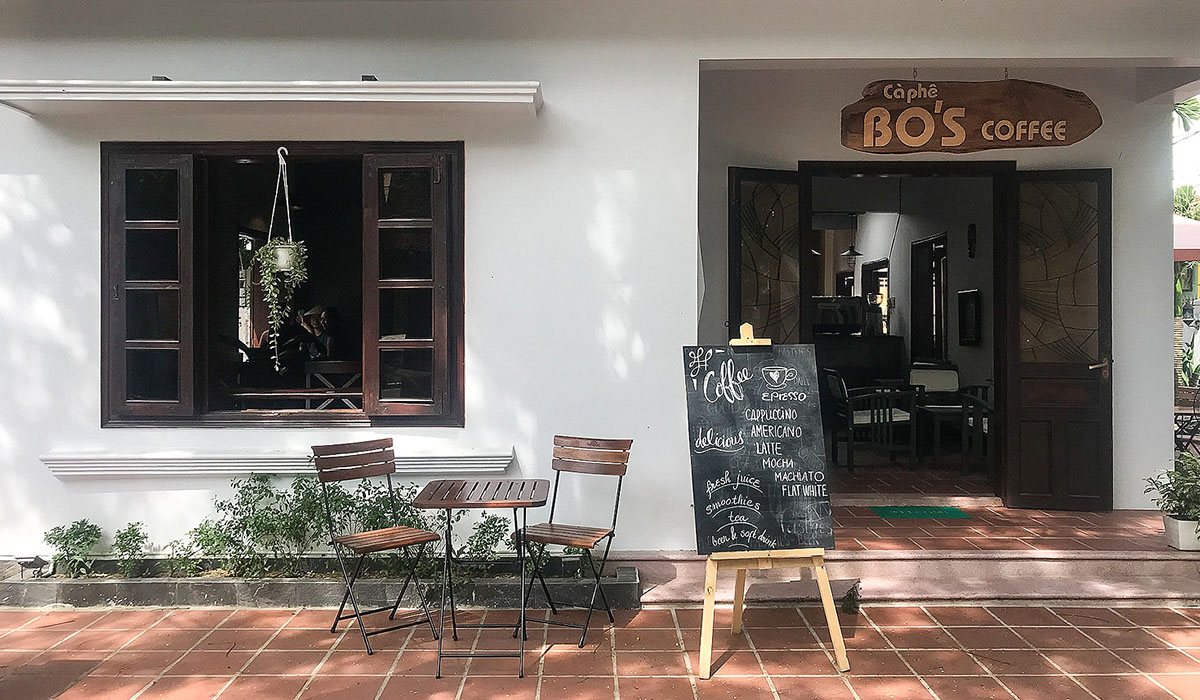 Quán Chay Ấm (pictured at top) sits near the outskirts of Hoi An, away from the concentration of tourists. It's darling, open to the street in front, with big black-and-white checked floors and dramatic curtains framing the space—an almost Arabian vibe.
I ordered spring rolls and a rice dish that was light and fluffy, is the best way to describe it. Most importantly, it all came unencumbered by sugar. I cleared my plate—the first time I'd done so since those fancy restaurants in Da Nang, several days previous.
A few nights later I returned to the restaurant for dinner with a woman who runs the Vietnam Animal Aid and Rescue in Hoi An (a worthy organization doing important work in a difficult environment). She's a vegan, and this was her favorite restaurant. I was so glad she wanted me to have another meal there. We shared a lotus stem salad and pad Thai, and both were phenomenal.
I remember these meals at Quán Chay Ấm not because they were among the best I ever had, although they were very, very good, but because of their position in a sea of awful meals. I remember them because I felt like I was in a real restaurant, not a tourist trap. And I remember them because I came out of them with a delightfully full stomach.
The day after my second meal at Quán Chay Ấm, I returned to the coffee shop to thank the owner for recommending it. He'd salvaged my Vietnam trip, after all, with both his coffee and his recommendation.