When it comes to my beauty and fashion routines, I am a creature of habit and laziness. On the rare occasion that I buy a new handbag, for example, it's only because the one I've just been carrying around for 18 months straight has finally broken. When you see me wearing the same pair of jeans I had on the last six times you met me for a drink, it's because those are the jeans that I know work, and I've picked them up off my bedroom floor again, having waited until two minutes before our agree-upon meeting time to start getting dressed.
What this means for my makeup regime: I don't use a lot of products, but the ones I do use get used up, destined to be replaced by the exact same thing. By this point in life, I've found my products, and I am loyal to them.
At home, I do have three blushes I rotate between, but when I travel I only take the most versatile and convenient one. Same with lipstick, except I travel with two. My process here is so streamlined that all my makeup items fit into this small mesh pouch when I travel: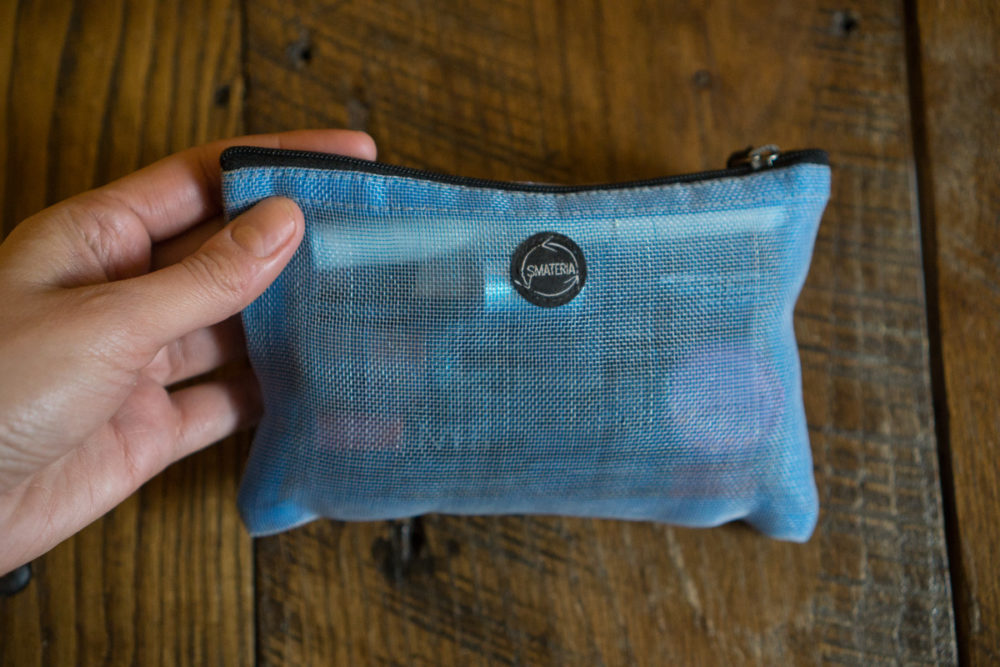 Here's what's in it, my eight essential travel makeup items, in the order in which I apply them (all pictured in the feature image up top). For reference, I'm Caucasian, with light brown/golden hair and a medium skin tone:
BENEFIT ERASE PASTE IN COLOR 2 ($20): This has been weirdly rebranded as Boi-ing Brightening Concealer since I last purchased it, but it's the same great under-eye brightener, which is all I really need in terms of concealer.

CHANEL LES BEIGES POWEDER COMPACT ($58): A quality powder with SPF 15, and also it never crumbles like cheaper powders tend to. Still, if I could find I cheaper alternative that was as good, I would switch.

SMASHBOX BLENDABLE LP & CHEEK COLOR IN BEVERLY HILLS BLUSH ($29): I currently have this in the Venice Beach Bronze color, but I actually think I like the one I linked to better, and will switch to it next. At any rate, no brush required, which is key for travel minimalism.

LANCOME CILS BOOSTER XL MASCARA BASE ($25.50): I thought eyelash primer was a joke until I got a sample one at Sephora at checkout once. Now I know that it's more important than the mascara itself.

CLINIQUE CHUBBY LASH FATTENING MASCARA IN JET BLACK ($18): Honestly, I am loyal to no mascara. It's the one item of makeup that I don't think gets better the higher end you go. This one is an economical choice, and works as well as any.

KNOW COSMETICS NO BLEEDING LIPS SECRET LIP LINER ($15): This invisible lip liner ensures that lipstick doesn't smear beyond where it's wanted. Especially helpful if you're headed out to eat in a public setting, which when traveling, I usually am.

NARS MATTE LIP PENCIL IN DOLCE VITA ($27): If I could only have one lipstick for the rest of my life, this would be it, and I wouldn't even be bummed about it. It's a combination lip liner and lipstick, the color and texture always work with everything, and it stays put.

NARS MATTE LIP PENCIL IN CRUELLA ($27): The above Dolce Vita color is always perfect for the daytime, but sometimes at night I want a little more drama. Enter this deep red color that I suspect compliments most skin tones.