[We updated this guide on January 21, 2018 to reflect notable openings and closings since our last update in January 2017. Added in 2018: Rockaway Beach Bakery, Whit's End Pizza, The Dropout at Riis Park. Removed in 2018: Whit's End at Riis Park. Added in 2017: Rockaway Brewing Co., Beach Bistro 96, Whit's End at Riis Park. Removed in 2017: Playland Motel and Whit's End, Wild Feast]
Out where Queens meets the ocean, the community of Rockaway welcomes almost 8 million beach-goers in the time between Memorial and Labor Days. The peninsula can envelop one more thoroughly in the winter months, though, when the landscape comes at you through a soft glowing grey filter and the hordes that descended in the summertime have left in their void a desolate landscape that beckons introspection. August must-visits like Tacoway Beach and Connelly's Pub have been shuttered until next year, leaving something more emphatically local, old-school, and intimate to be explored.
Here are the highlights of a winter visit to Rockaway, starting at 72nd Street and working our way out toward Fort Tilden…
*Important note: Business owners in Rockaway change their minds about days and hours of business with whimsical frequency. It's always advisable to check ahead before going to the places listed below.
Rockaway Brewing Company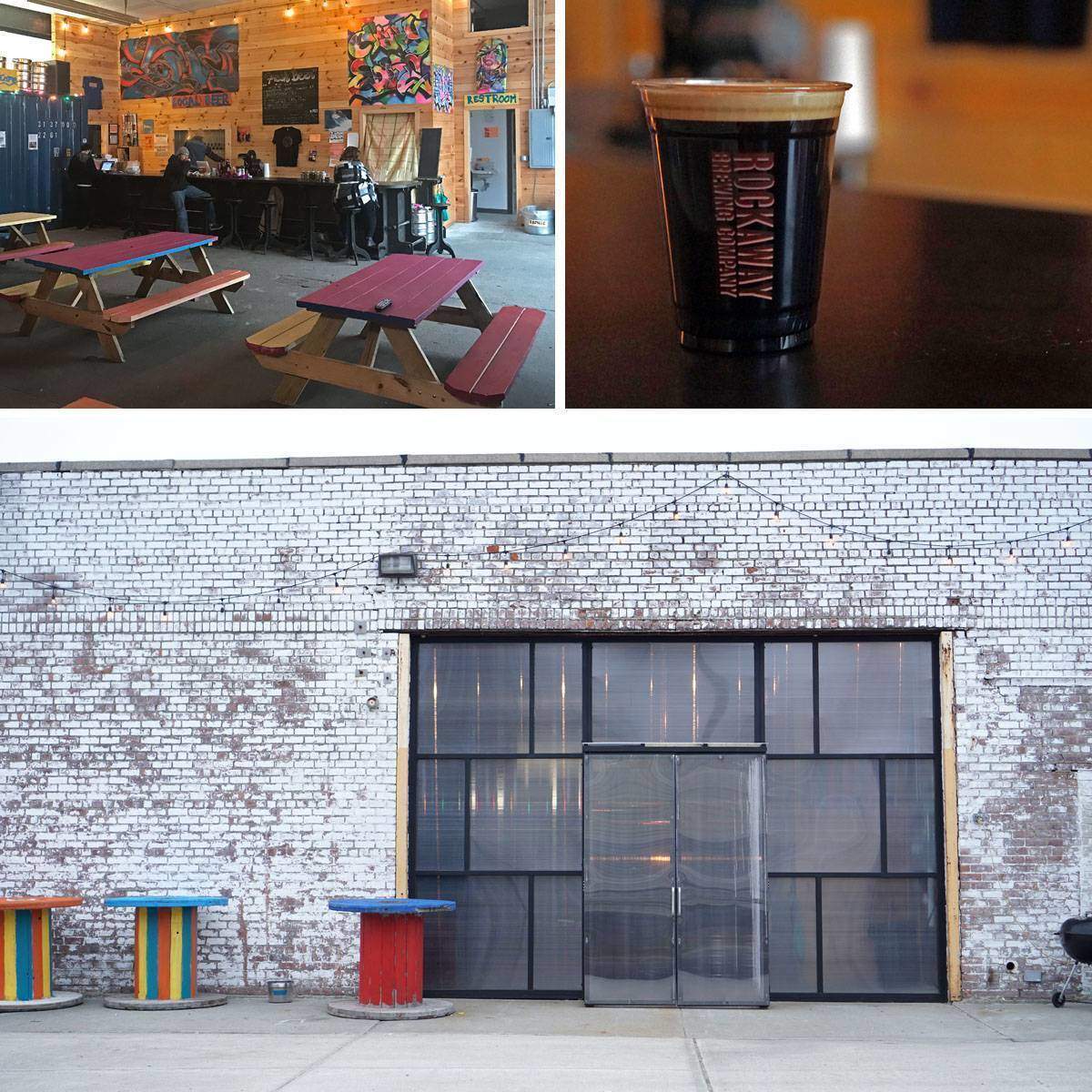 The beers are brewed in its Long Island City facility, but in 2016 the Rockaway Brewing Company opened this taproom in the place it's named for. It now serves a rotating menu of food, including ramen and a raw bar. Still rumored: a smaller onsite brewery, where the company will test out new recipes, serving them up in the bar. Rockaway Brewing Co., 415 Beach 72nd Street.
Rockaway Beach Bakery
Owner Tracy Obolsky could have taken her considerable baking skills anywhere, but she chose proximity to the beach and surfing over Manhattan or Brooklyn. The gamble seems to be working: the woman working the register on a recent visit told me that they can't make the signature Ham and Swiss Everything Croissants fast enough. For my money, though, the cheddar jalepeno scone is the must-have–uniquely delicious in its taste and flakiness. The shop itself is a delightful place to pass a morning hour. Rockaway Beach Bakery, 87-10 Rockaway Beach Blvd. 
Zingara Vintage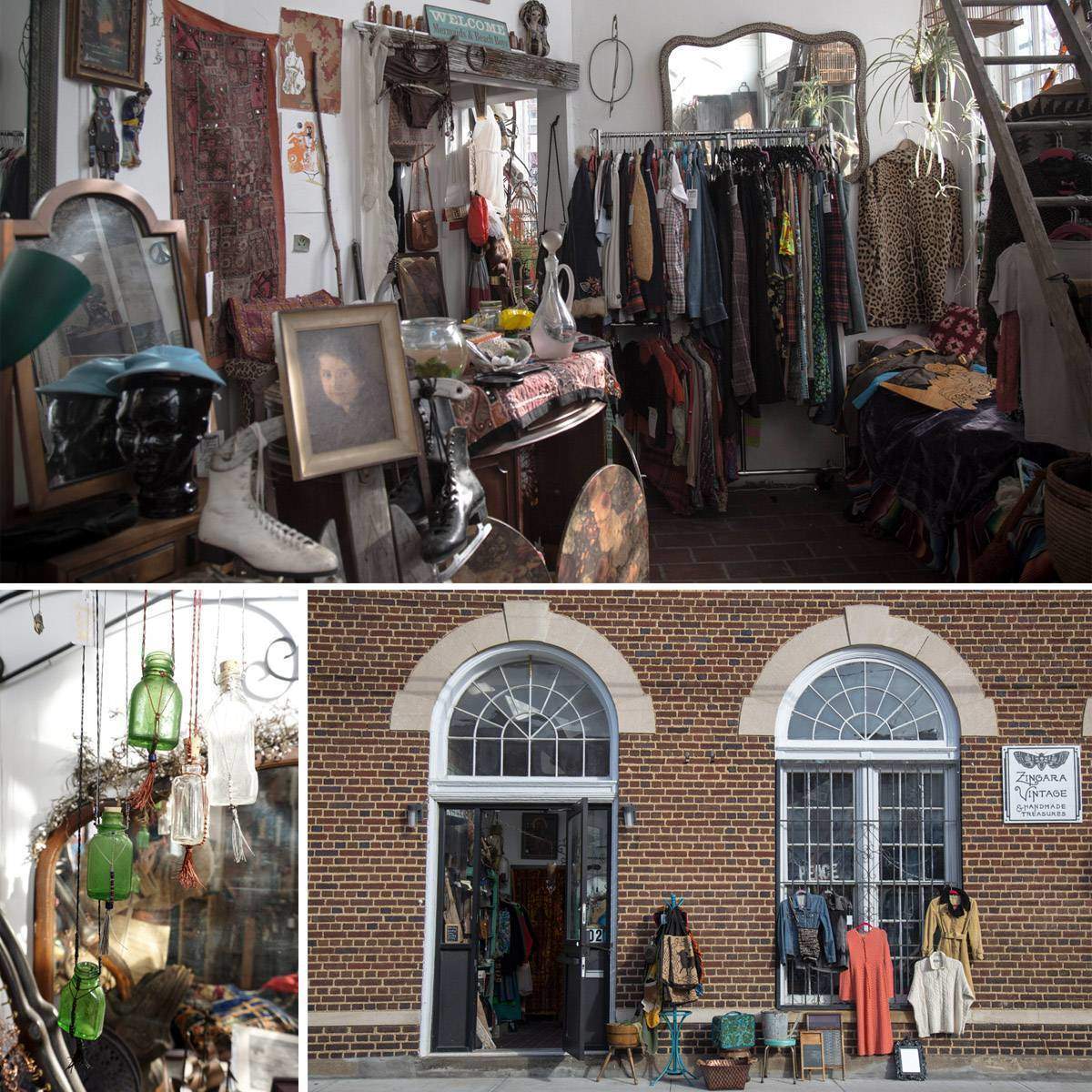 This corner spot with huge windows houses a kaleidoscopic assortment of vintage and found items…bottles from Dead Horse Bay, designer dresses from decades past, a great selection of blankets, and weird old art. Zingara Vintage, 202 Beach 91st Street, at Rockaway Beach Blvd.
Uma's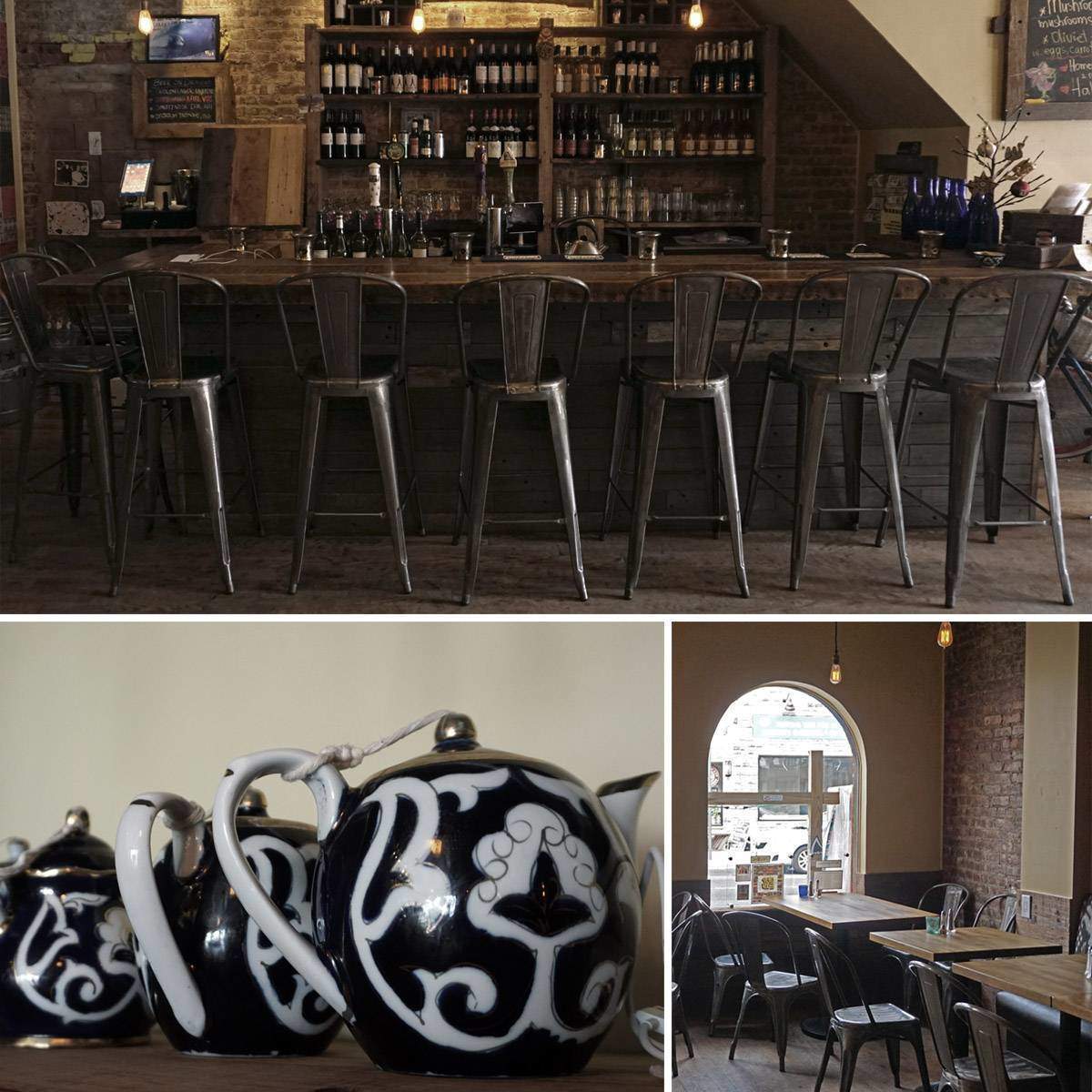 The delights of Uzbek cuisine found an unlikely home in Rockaway (the chef is married to a lifelong resident). Make sure you enjoy the manti under that cool glow of an endless reel of classic surfing videos. Uma's, 92-07 Rockaway Beach Blvd, near 92nd Street.
Off Season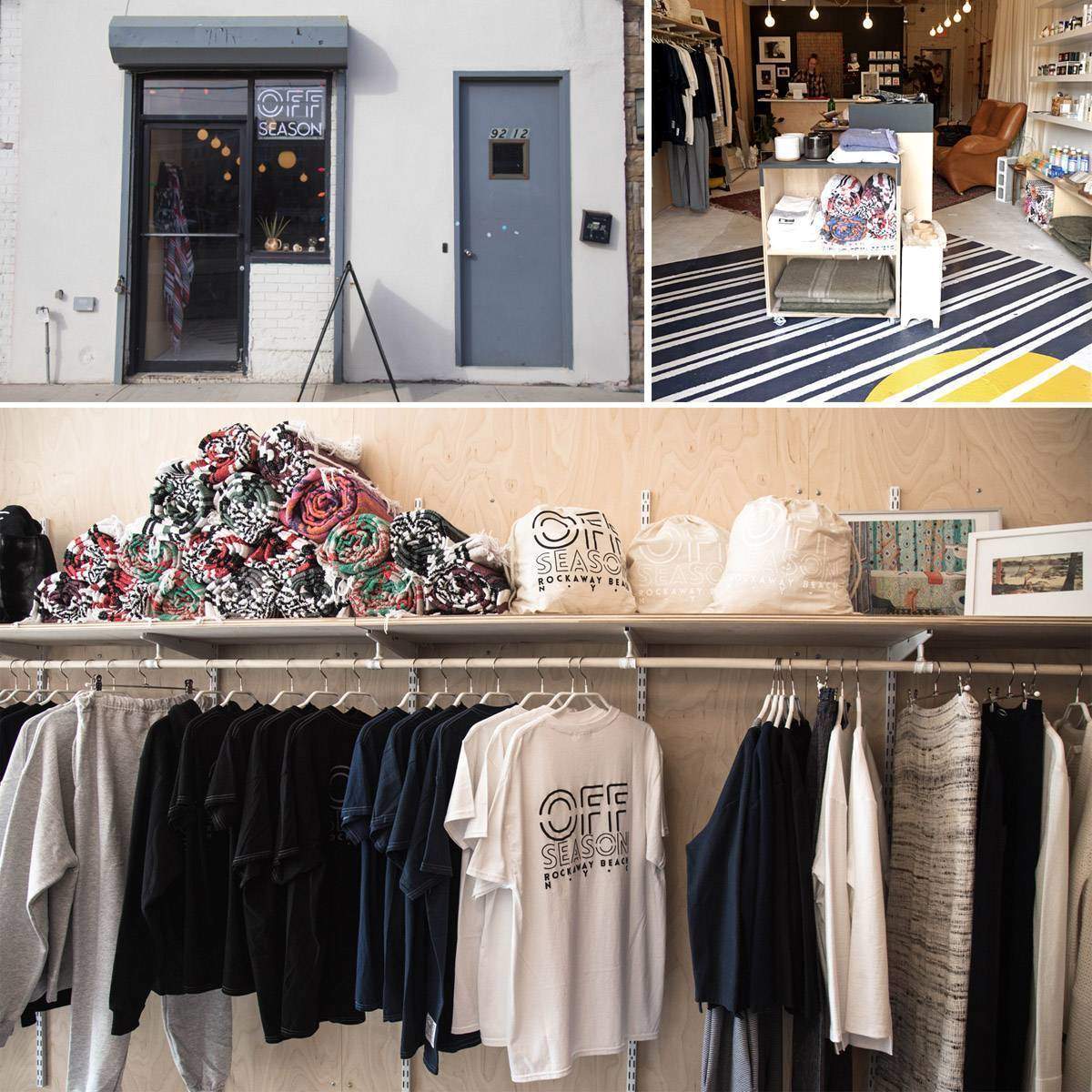 The brick-and-mortar home for the clothing line of the same name opened last summer, showcasing a chilled-out sophistication as refined as it is down-to-earth. Owner Abra Boero also sells wares from other local designers and makers. Off Season, 92-12 Rockaway Beach Blvd., near Beach 92nd Street.
Bungalow Bar & Restaurant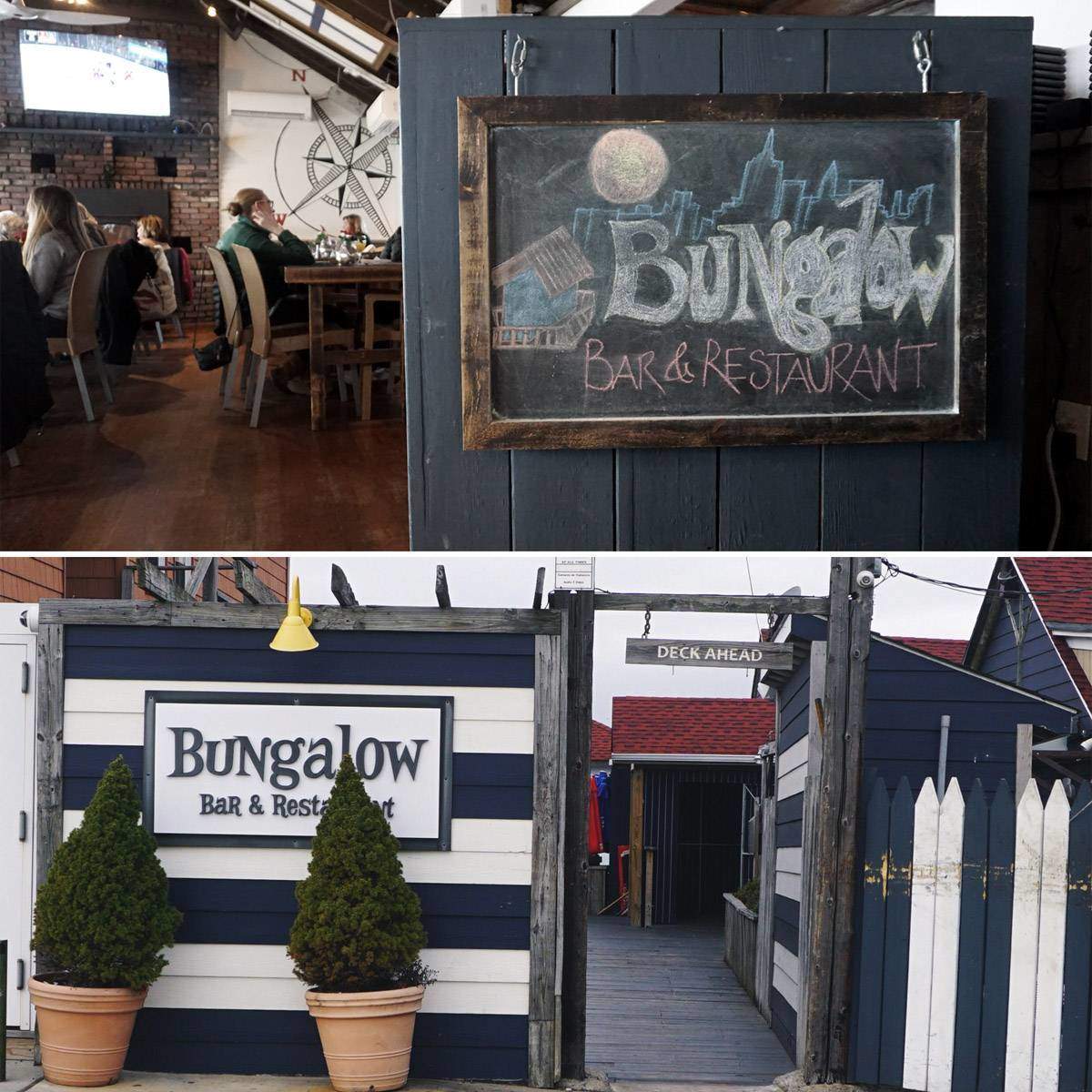 Every beach town needs a Bungalow, that year-round waterfront spot that had the wherewithall to install a fireplace for the colder months. Solid food, solid drinks, solid view of Jamaica Bay. Bungalow Bar & Restaurant, 377 Beach 92nd Street, at Beach Channel Drive.
The 90st Street Surf Beach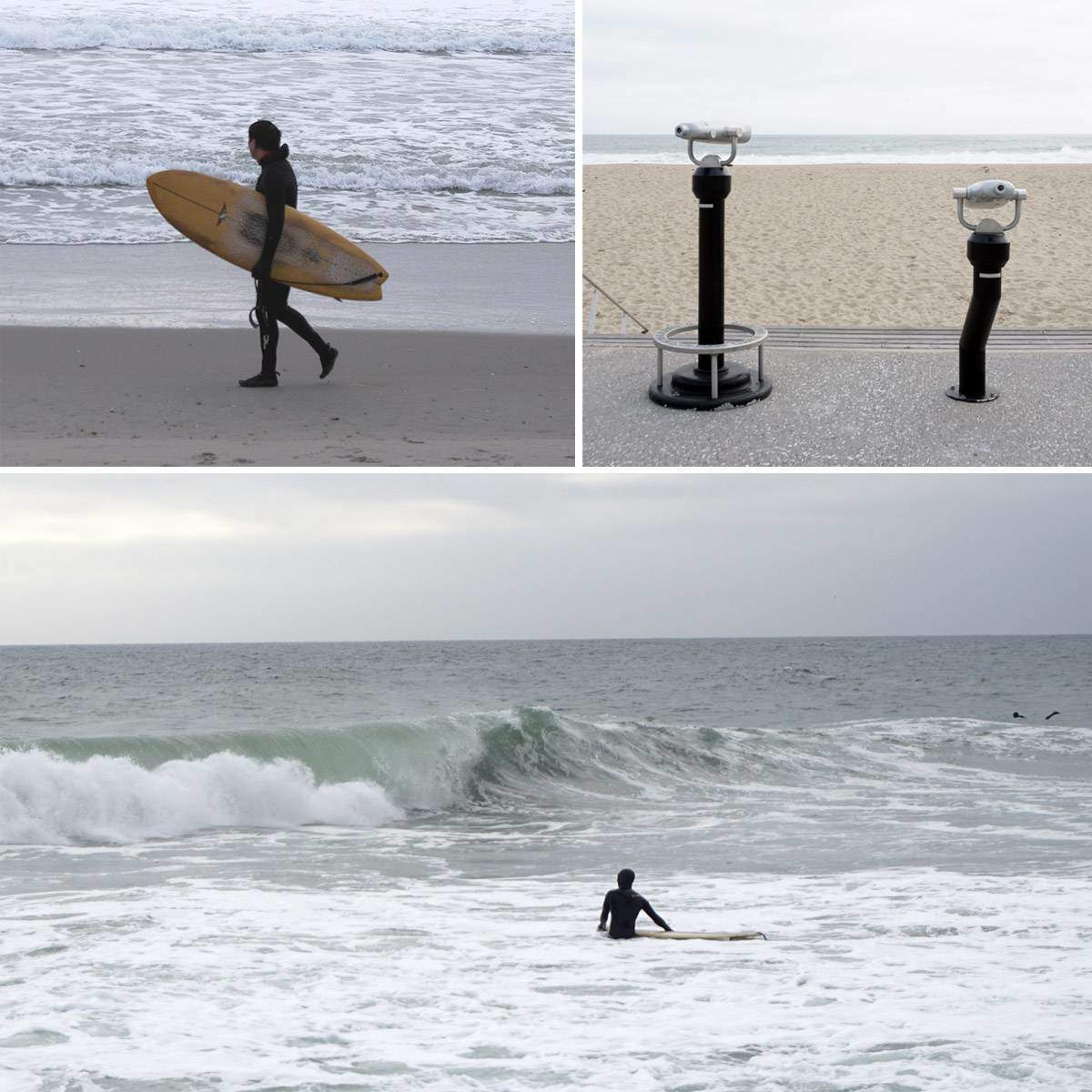 It's always fun to watch people do something you yourself would never partake in. Here, surfers happily brave water temperatures in the 30s and 40s Fahrenheit for the possibility of catching a good wave. Beach 90th Street at the ocean.
Beach Bistro 96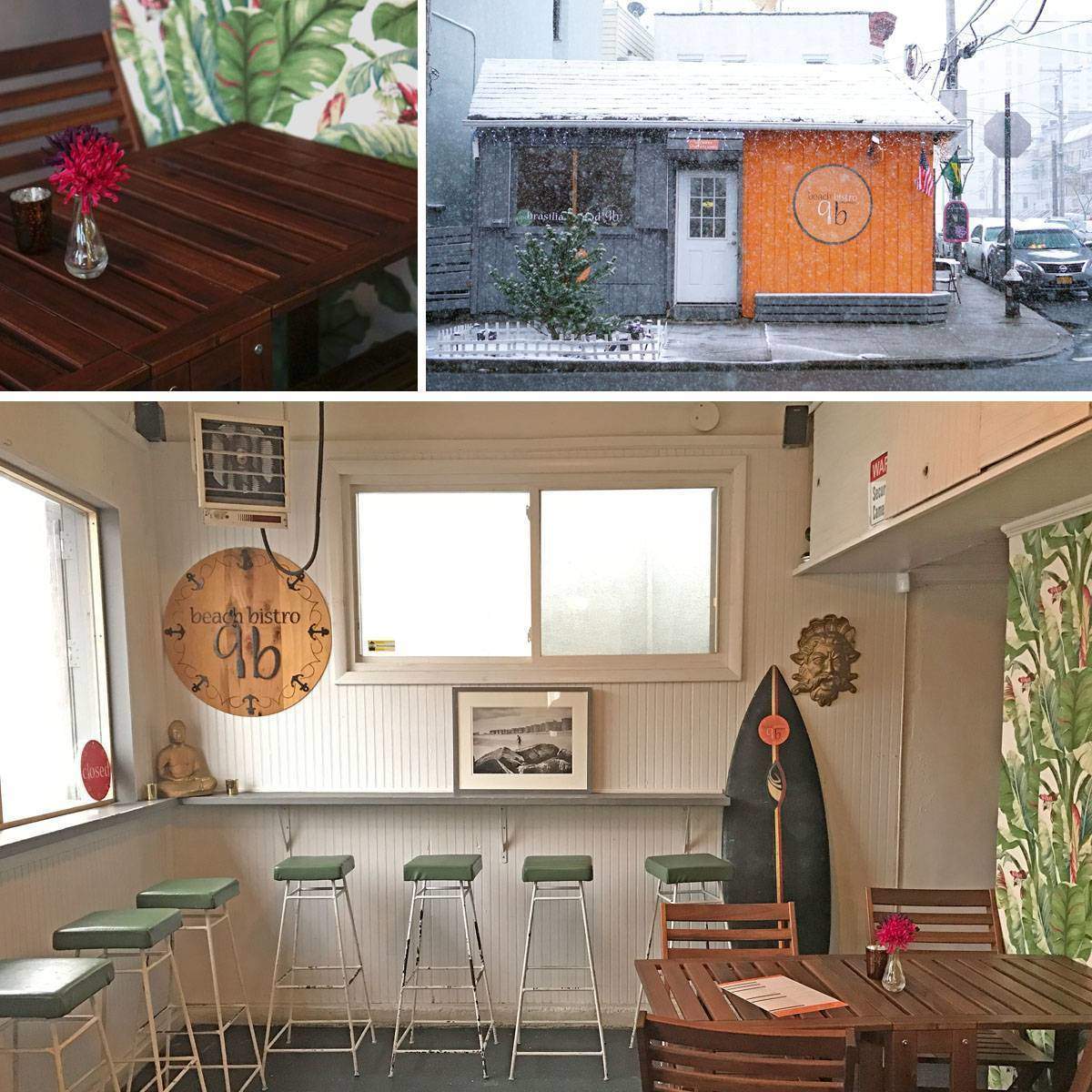 Although the decor is a subtle nod to summer, this corner Brazilian spot feels decidedly cozy on a snowy winter day like the one on which we visited recently. If you go, we have to insist that you try the caju juice (made from the fruit that is attached to a cashew nut on the tree) and the mushroom quinoto (a quinoa spin on risotto). Beach Bistro 96, 95-19 Rockaway Beach Blvd., at Beach 96th Street.
Whit's End (Photos Coming Soon)
He's moved around the Peninsula a bit over the past couple of years, but this winter pizza genius Whitney Aycock is settling into the space formerly occupied by Chicks To Go, and he's got his legendary Stefano Ferrara oven from Naples with him. Get the Carciofi pizza, please. Whit's End, 97-02 Rockaway Beach Blvd.
End of the A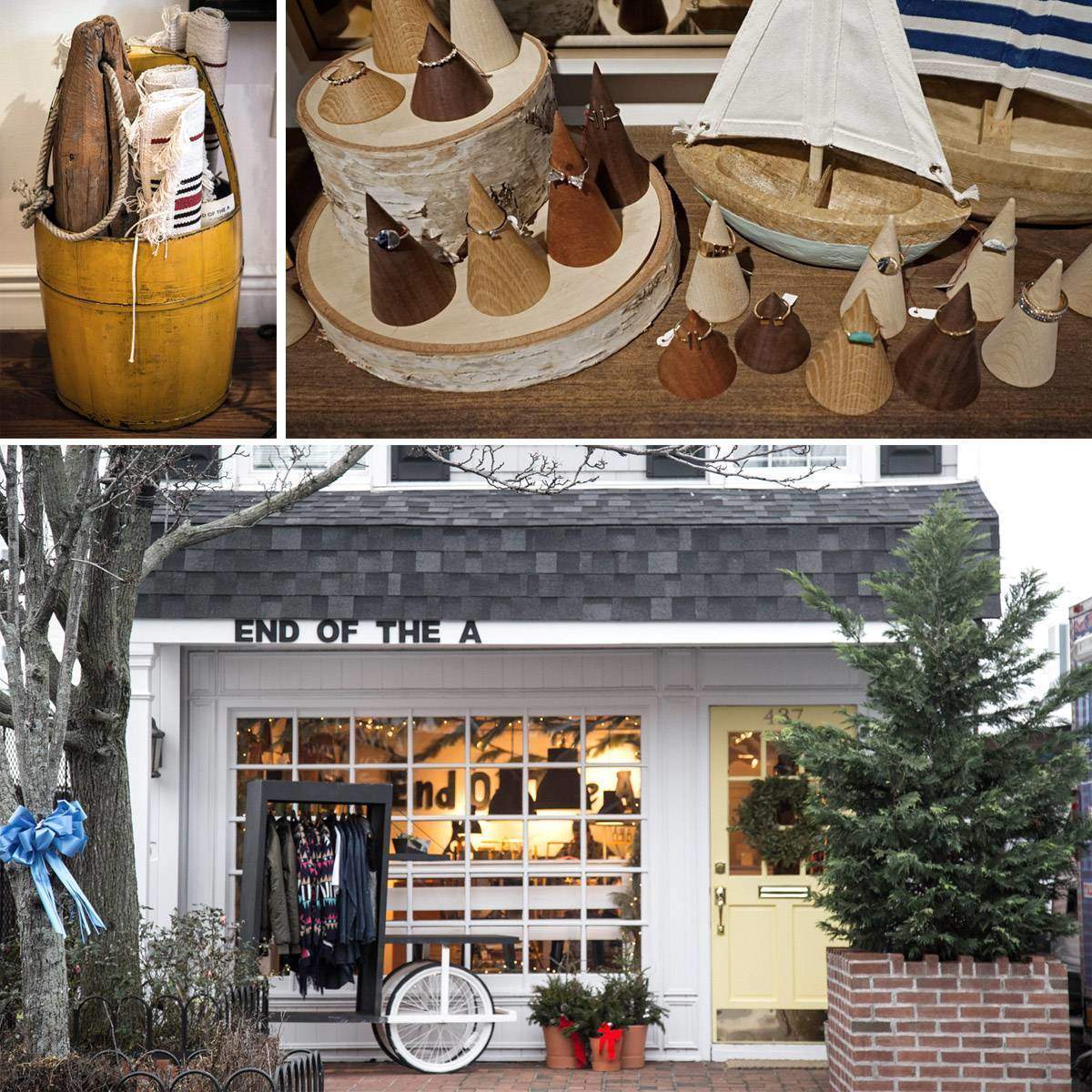 End of the A started out as a mobile shop-in-a-truck a couple of summers ago. The brick-and-mortar spot opened in 2016, with an expanded mix of eclectic clothes and home goods. End of the A, 437 Beach 129th Street, between Cronston and Newport Aves.  
The Dropout at Riis Park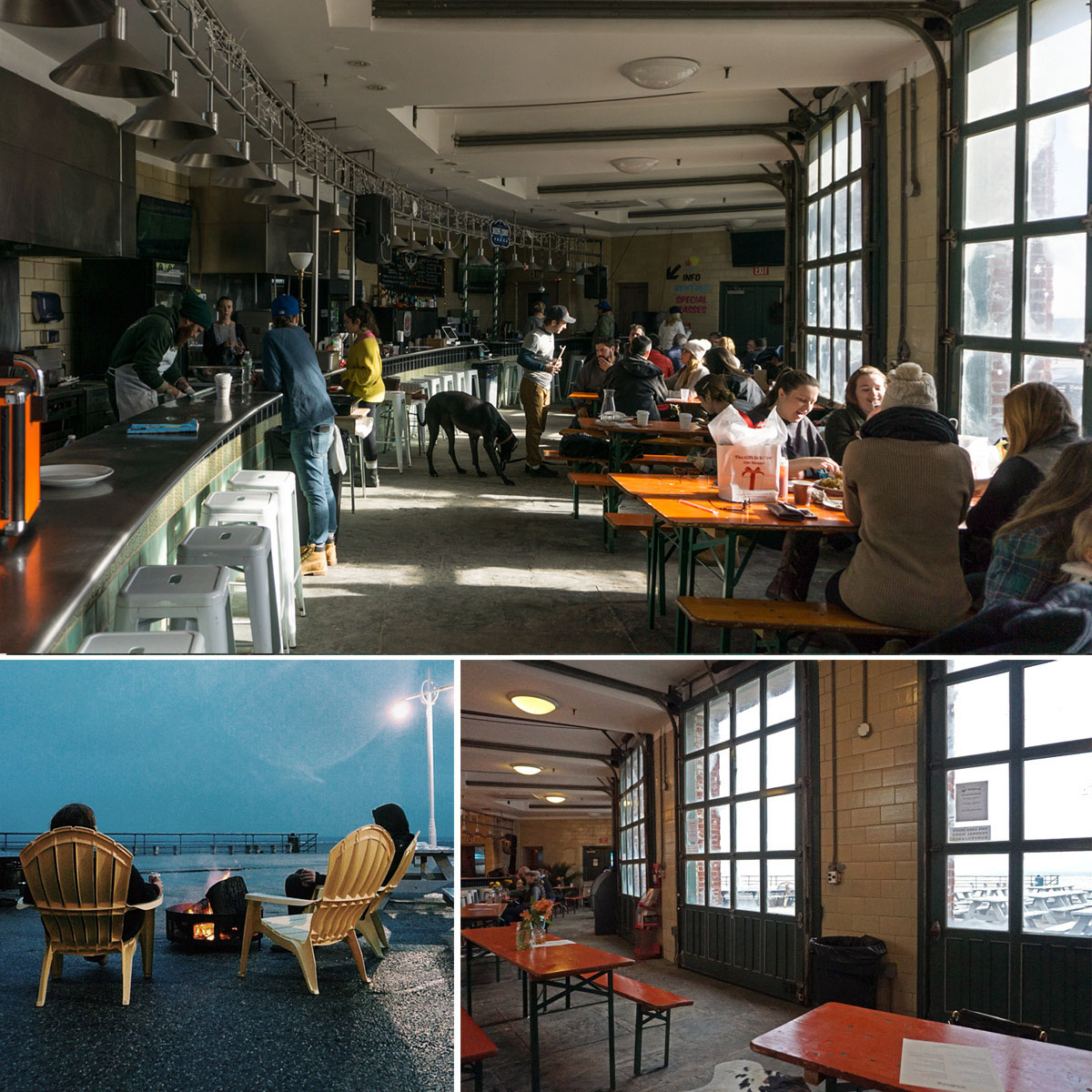 The Dropout took over this appropriately end-of-the-earth space this winter after Whit's End closed there. After how many wrong turns and a growing suspicion that the place is an urban myth, arriving here is like stepping into a fairy tale. This winter, it's bustling inside, with a full bar and food menu, including brunch on the weekends. Outside, there's a bonfire overlooking the ocean waiting to be lit. The Dropout at Riis Park, 16702 Rockaway Beach Blvd, at the end of what was once the world's largest parking lot.
Fort Tilden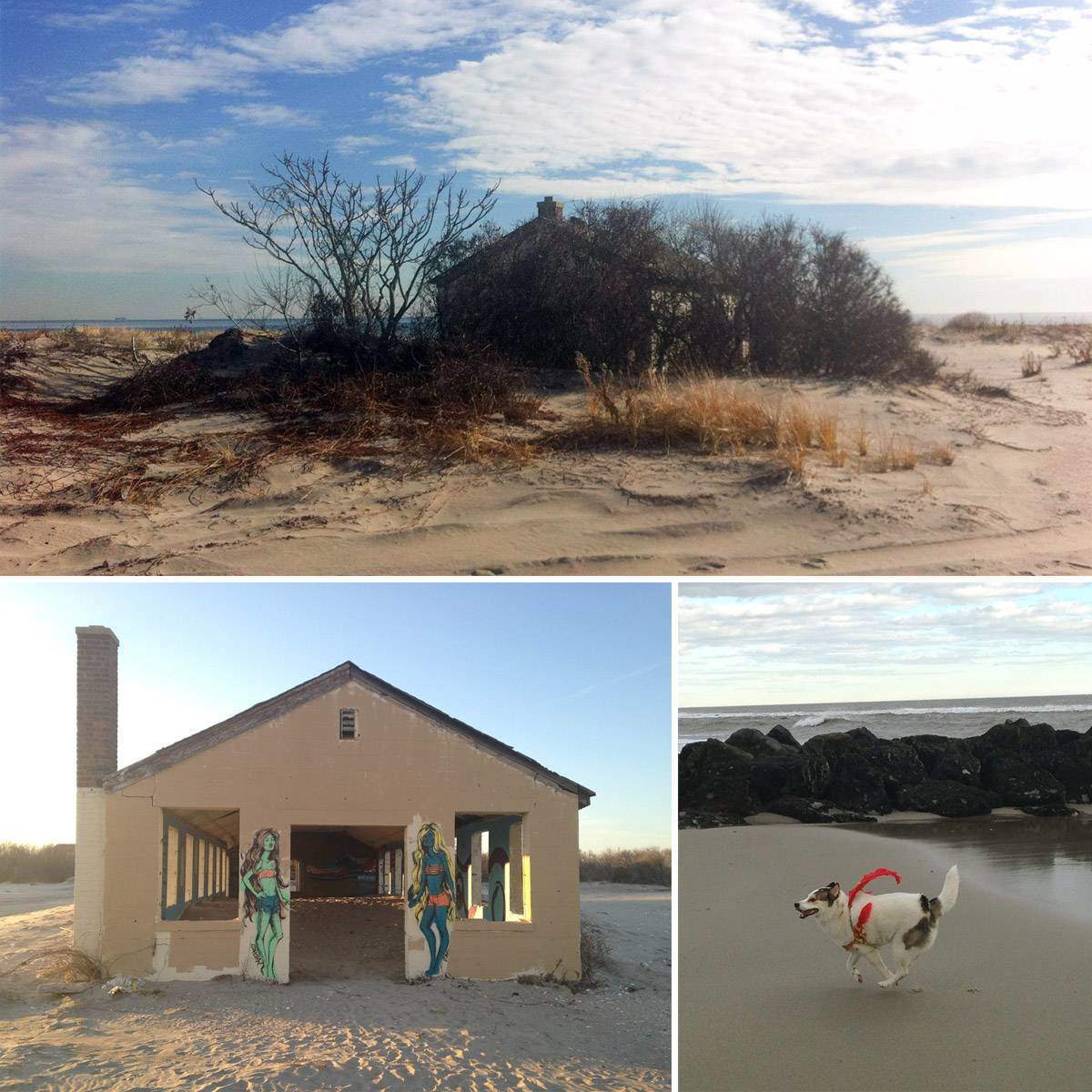 The farthest you can get from New York City without leaving New York City, Fort Tilden is just that, an abandoned Army fort on the water, with the requisite reclaimed nature, graffiti, and wide-open beaches. Eerie, beautiful and even in the summer, pleasantly crowd-free.
Other spots of interest:
Sayra's Wine Bar (wine and snacks, 91-11 Rockaway Beach Blvd)
Rockaway Roasters (coffee shop, 92-06 Rockaway Beach Blvd)
Community House (rowdy restaurant and bar, 101-19 Rockaway Beach Blvd)
Lola Star (Rockaway souvenirs, 1-74 Beach 116th St)
Roger's Irish Tavern (historic dive bar, 203 Beach 116th Street, no website)
Words by Sarah Stodola
Photographs by Micilin O'Donaghue and Sarah Stodola
All photographs copyright Flung Magazine. For reprints and permissions please email info@flungmagazine.com.