Frequent travelers will be grateful for any and all improvements to their long-haul flights. Here are some essentials that'll help get them where they're going in one piece…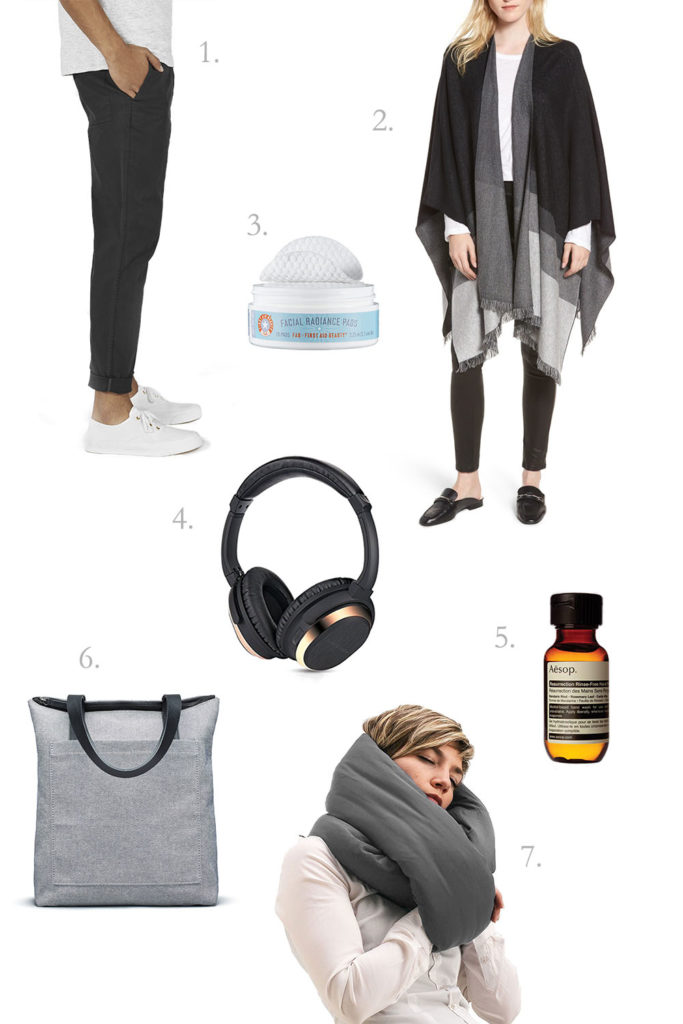 1. Everlane Men's Midweight Drawstring Pants | $65 | The next best thing to sweatpants, but they looks a whole lot better.
2. Splendid Ridgewood Poncho | $195 | I'm a huge fan of the poncho as travel accessory–triples as a jacket, in-flight blanket, and scarf. No lady would ever be angry to find this one in a gift box.
3. First Aid Beauty Facial Radiance Pads | $15 | These exfoliating pads make a great freshen-upper mid-flight, and again just before landing. And the packaging is just right for travel.
4. ANCDEEP Noise Canceling Headphones | $59.50 | For long flights, noise-canceling headphones are essential, and these work great at a far lower price point than the Boses and Beats of the world.
5. Aesop Rinse-Free Hand Wash | $10 | A truly small price to pay for a bit of luxury on a flight, and a major improvement on Purel.
6. Everlane Pocket Tote | $48 | Weekenders and backpacks have their place, but a tote is the most essential carry-on when it comes down to it.
7. Huzi Infinity Pillow | $35.99 | There's nothing this weird pillow can't do–window, aisle, or somewhere tragically in between.