City travel is different from the other kinds. Comfort still has its place, but doesn't negate the need for style. If her idea of a good trip involves Paris, New York or Tokyo, this guide is for you…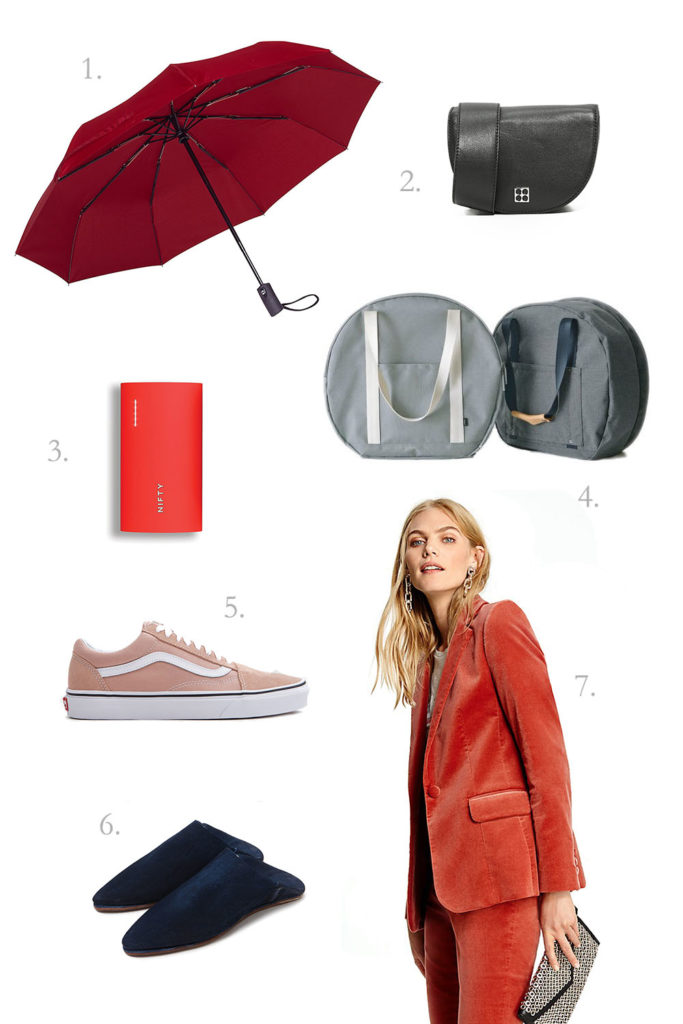 1. Rain-Mate Compact Travel Umbrella | $16.95 | Quick, name a major walking city where it never rains. Exactly. Every urban traveler needs one of these to tuck into her tote.
2. Parisa Wang Addicted Fanny Pack | $240 | Fanny packs aren't embarrassing anymore, and it turns out they are perfect for toting the essentials around the city for the day.
3. Nifty Mobile Charger | $79.99 | Spending a day exploring a city usually means heavy use of Google Maps, at the very least. This portable battery has four or so iPhone charges in it, for navigating freely.
4. Angie Round Weekender by POKETO | $168 | Love the grey, love the spaciousness, love the shape and compartments.
5. Old Skool Vans in Mahogany Rose | $60 | Vans make fabulous city walking shoes, and these are especially fabulous Vans.
6. Babouche Slides in Navy Suede | $80 | Shoes are possibly the most important accessory in city travel. That's why we've included two of them on this list.
7. Frame Collection Classic Velvet Blazer | $575 | There is no cosmopolitan layering piece more perfect than the velvet blazer, paired with jeans during the day and transitioning without a hitch to cocktail time.